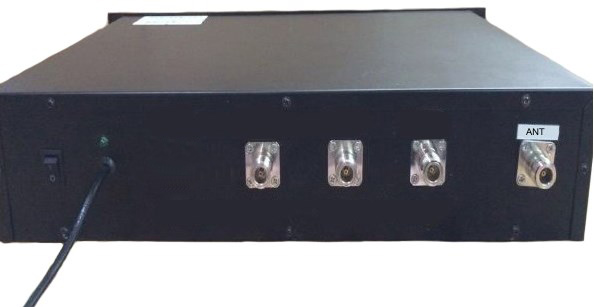 UHF 3-way RX multicoupler, 350-520MHz, 5MHz bandwith.>20dB port isolation.
Product code: RXMUX-350-520-3
Product Description
A multicoupler combines the input of multiple external receive signals from a single antenna. Suitable for UHF communication installations.The ?RX? port on the rear connects to the receiver/s and the ?ANT? port connectors to the duplexer low port or the receive antenna.
PDF documents for download:
Brochure [ZCG Receive Multicoupler MUX]
Product Specifications
| | |
| --- | --- |
| Weight | 5.5kg |
| Dimensions | Width: 482.6mm, Depth: 300mm, Height: 88mm |
| Construction | Black powdercoated case and 9 chrome terminations |
| Impedance | 50 Ohms - nominal |
| Connector | Antenna Port: N-type female, Receiver Output: 3 x N-type fem |
| Frequency | UHF 350-520MHz |
| Bandwidth | Specify 5MHz |
| Tuning | Factory at 1.5:1 VSWR |
| Max power | Receive only |